I am hoping that someone out there can help me find my dog or may know his where abouts!!! His co owner borrowed him for a few studdings and now won't return him nor will she tell me where he is. I would love to have my boy back! She claims I only used him for breeding which is a big fat lie! I have 2 litters with him and paid $1400 for him. My name is on his papers as his owner and I want him to retire here at our home! Please help me find my dog! His name is Shoreland's Sky's The Limits and he needs to be returned to his rightful owner!! Thank you to all who can help!! You can pm me for more info!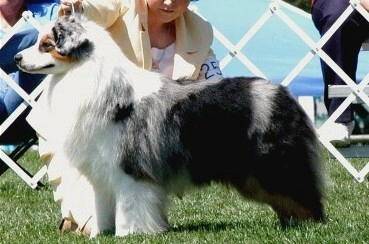 _________________
Karen
Live,Laugh,Love!!!!
Dachshunds are like potato chips.....you can't have just one!
www.karmadoxies.com
Admin




Posts

: 1072


Points

: 1433


Join date

: 2010-11-16


Age

: 48


Location

: Canfield, Ohio



Karen, if she's got no legal right to keep him, you need to contact her local sheriff or police and go get him. They will help you if you can show them that you legally own him, and that he is to stay with you. If your co-ownership contract isn't clear about who is to keep and care for him, then you may be out of luck, but it can't hurt to call them and explain the situation and maybe fax or email them the co-ownership agreement so they can see if it is enforceable.

My co-ownership contract states that the owner (other person) has possession of the dog, and is responsible for food, housing, grooming and reasonable care for a show dog. That gives the owner legal cover if I ever pulled something like that-it's clear that the owner keeps the dog, and I'm only the co-owner and my rights are limited to the specific arrangement we've worked out. I wanted a contract that covered BOTH parties, so there are no misunderstandings.



Posts

: 180


Points

: 206


Join date

: 2010-11-17


Age

: 46


Location

: Milford, MI



That's such a shame Karen! He is a beautiful dog. I can't believe how people can do that! I hope you find him, and everything works out for you. I agree I would call the police department in her area, and at least see if they can do anything about it....maybe if you have saved vet records and other documentation of caring for him and/or paying for him to send them it may also help prove that you are the true caregiver.



Posts

: 251


Points

: 343


Join date

: 2010-11-16


Age

: 27


Location

: Cumberland, MD



Any news on him yet Karen ??????
Robin Brueggeman



Posts

: 433


Points

: 474


Join date

: 2010-11-16


Age

: 52


Location

: Ohio



Problem is...the person I bought him from/paid for him was his owner/co owner before me. This lady(original owner) was a silent partner, I have never really met her and we have no contract together period. I had him for 4 yrs after I bought him and out of the blue she contacted me. She never once contacted me before this to see how he was or anything. I never even spoke to her via email or phone!! I had bought my female Aussie from the same person I bought him from. I knew nothing about contracts then nor did I know anything about co ownership or showing but I bought him cause I used him for stud and fell in love with him. I was very naive and I knew these people very well. We were good friends for 5 yrs until this all happened and his co owner took him back! Now we don't talk cause they say she has every right to use him for breeding. So why the heck did I pay so much for a dog to just have taken back by his co owner and to never see again? There has to be some kind of law to stop her from basically stealing him from me. I have all kinds of proof.....I paid handlers, show fees, vet bills, shots, eye cerf's and so on for him while he was showing! I have $3,000 worth of receipts and bank statements, copies of checks to show proof of most of it.
This lady has done this before to many others and when I first bought him and was showing him, a couple people warned me about this woman being shady. Then against my better judgement, I let her handler take him to show him and to use for a breeding and that was in Sept of 08. He was to be returned in June of 09. When I contacted her about returning him and previous to that I kept asking how he was and was in contact quite often about him, I was told that he was neglected.....LOL.....when I asked what she meant by that, she said he had sore feet. Well I knew that was a lie cause he was kept on saw dust with other Aussies and not one of them had sore feet. I asked for pic's of proof and she had none to show me, so I told her I wanted him back prior to our agreement thru email....which I still have!!! He was never neglected and I have 5 people to this day willing to sign anything to testify that he was in excellent condition and well taken care of....if anything I was told I fed him a bit to much and needed to cut back on his food! He was a tad chubby when shown! He only needed one major to finish and we just missed it in PA one yr....he took 2nd and I was bummed cause he would have finished and could have retired from the show ring!!
Anyways......I think he is in Michigan now but looking into it to see. When I go up there next weekend, me and a friend are going to this handlers home

and I will take all his paperwork with me, since I have all original documents for him and taking the local authorities with us.
I just hope that Karma is on my side and I can bring my boy home once and for all!!!

_________________
Karen
Live,Laugh,Love!!!!
Dachshunds are like potato chips.....you can't have just one!
www.karmadoxies.com
Admin




Posts

: 1072


Points

: 1433


Join date

: 2010-11-16


Age

: 48


Location

: Canfield, Ohio





Similar topics
---
Permissions in this forum:
You
cannot
reply to topics in this forum