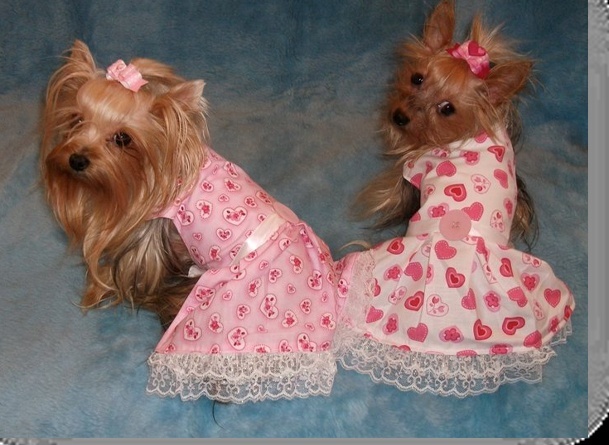 I hand-make dog clothing for any sizes. I usually charge around $30 for my hair work and time into making the clothes. You can visit my website (link below) to see more of what I make. I can make the clothes into any fabric pattern, to fit your taste. Embroidery can be done for an additional cost of $10.
Oh my gosh adorable i so wish my pups would let me dress them up !!! Someday i will have a pup that loves clothes :<3:
Lol! My dogs don't hate clothes, but they sure as heck don't like them.
I can't wait to get my easter dress from you

This will be my 5th dress I have gotten from Jen, and I have to say she is very creative and her dresses are absolutely beautiful and are sewn beautifully! She sews better than what I could ever do LOL



Posts

: 251


Points

: 343


Join date

: 2010-11-16


Age

: 27


Location

: Cumberland, MD



Awwww is the easter dress for pretty Holly :<3:
Nah it's for Lucy....although Hollie is the only dog in our pack that actually enjoys wearing clothing LOL if she sees you have a doggie-sized outfit she'll come right up to you and sit until you put it on her....but since she's Darrens dog she's a MAN'S dog and can't wear frilly dresses LOL She could probably wear it to though but it'd be short on her since shes unusually long. Jen had to make her xmas dress extra long just to fit her. She is 18" from the base of her neck to the base of her tail LOL



Posts

: 251


Points

: 343


Join date

: 2010-11-16


Age

: 27


Location

: Cumberland, MD



Awwwwww I love Hollie she seems so sweet :<3: :<3:


Similar topics
---
Permissions in this forum:
You
cannot
reply to topics in this forum